Director-General's Profile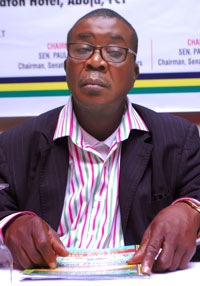 Oni John Martins (Prophet Dr. Oni) is the General Overseer of Chosen of The Lord Ministries Inc. He is a chemical merchant and an industrialist. His interest in Community Policing dated back to 1970 when he was in the employment of Julius Berger as a Quarry Manager, He was then resident in Ijebu-Ode, Ogun State and he got himself acquainted to the Ogun State Police Command by working with them on crime prevention. At this period he had the privilege of working closely with Mrs Adegoke the then Commissioner of Police in Ogun State, and Assistant Commissioner of police, A.C Kazeem.
Following a clarion call by the then Inspector General of Police Alhaji Aliu Attah for Community Policing, we formed the PCRC in 1985/86, after calling on people to get close to the police, while the PCRC was officially inaugurated in June 30th 1992 at the CP Danbaba conference hall, I became the first chairman of Police Community Relations Committee (PCRC) on 30th of June 1992 in Lagos State. This happened during the tenure of AIG (Mrs) Rose Iyamabo, CP Danbaba and DCP Adeoye.
In 2002 in my capacity as the President of Tradesmen and Artisans of Nigeria I deemed it necessary to form Police Assistance Committee after consultation with the executives and members of Tradesmen and Artisan on community policing, following the clarion call of the then Inspector General of Police. The idea was a way of contributing our quota towards assisting the police with information dissemination to prevent and combat crime in the country.
We had the tremendous support of the then Commissioner of Police in Lagos State, Sir Mike Okiro and Mr. Young Arebamen who sincerely encouraged us to actualize the formation of PAC which eventually intensified the crusade of spreading the activities of PAC across the 36 States of the Federation.
Mention should also be made of the efforts and support of the then Force P.R.O Chris Olakpe (DCP) and CSP Emmanuel Ighadolo who all contributed in advisory capacity and in the speedy actualization of PAC in Nigeria. Presently the Police Assistance Committee has been inaugurated throughout the 36 States and the Federal Capital Territory FCT, Abuja.
Oni John Martins (Prophet Dr. Oni) as the Director General of Police Assistance Committee has affiliation with some foreign bodies in Commerce and Security matters. He is the National Coordinator of Africa Chambers of Commerce and Industry in Dallas, Texas, U.S.A. He is also a member of International Association of Chiefs of Police an organization dedicated to the advancement of Professionalism in Law enforcement. He has a degree in Security Enforcement Administration from the University of Lagos, and an honorary degree in Chemistry from Lagos State University. He also has a PhD degree in Graphognomy (Handwriting Analysis) from Onigraffiks Open University, Lagos, Nigeria, an affiliate of Institute of Graphoanalysts, Nigeria (IGAN) and he is currently the Chief Security Adviser to the National President, Institute of Graphoanalysts, Nigeria.
Through the able leadership of Oni John Martins (Prophet Dr. Oni), the PAC has gone into partnership with the Senate Committee on Police Affairs and other Security Agencies in organizing its seminars/workshops, and still exploring possibilities of going into similar working arrangements with other organs and agencies of government.
MY TWO DECADES OF COMMITMENT & STRUGGLES TOWARDS OPERATING COMMUNITY POLICING IN NIGERIA
I can say unequivocally that Community policing is arguably my brain child. And being a security conscious human being,I came up with the idea of establishing community policing through Police Assistance committee after realising that people had mistrust in joining the Police Community Relation Committee (PCRC), which I founded in 1992.
Having Worked in the office of the groups that started community policing in Europe and America afforded me to garner tremendous experience from them, on how they started the outfit and how they worked with the police for a seamless relationship. I also worked with International Association of Chiefs of Police (IACP) through the African Chamber of Commerce and industry Dallas USA.
My experience with community policing in Nigeria began when the former Inspector General of Police, Alhaji Aliyu Atta inaugurated community policing here in Nigeria. For six years, it was an arduous task talking to people and convincing them to join the Police Community Relation Committee (PCRC). This was because, at that time, there was not a good relationship between the police and the people. So, it took us a long time to change the mind set of civilians towards the police. With the training I had on community policing and the experience I garnered in Europe and America, at this point I started spending my personal money on both the people and Exco members/tradesmen and Artisans so as to build a good relationship and to eradicate the mutual suspicion between them.
It was at this point we officially launched PCRC community policing in Lagos State under Mr. James Danbaba as Commissioner of Police and his deputy Mr. Adeoye. From using the conference hall at Lagos police command we were moved to Force Headquarters at Moloney in Lagos by the retired Assistant Inspector General, Mrs. Rose Nyemmaboh, for the outfit to have a national outlook when she discovered my experiential efforts at galvanising the community police in the state.
To strengthen the work of the police and spread their areas of influence in controlling crimes through local efforts of the communities, we began building Police Posts across the state. We also started assisting the offices of Area Commanders and DPOs by giving them information of criminal activities we gathered. when former Lagos Police Commissioner, Mr. Mike Okiro, noticed that I was the President of Council of Tradesmen/women and Artisans he approached me to use the numerical strength of the association in gathering and disseminating information on crime tendencies in our local areas to assist the police. With the support from the governor of the state, Buba Marwa, we coordinated ourselves to fight crime in the state.
In due course, we realised the need to have a security arm in the council of Tradesmen/women and Artisans, separate from their daily business activities we created what is today known as Police Assistance Committee (PAC) during the tenure of CP Arabame with his PPRO for Lagos State as Emmanuel Ighodalo. This time Mike Okiro had move on to Abuja as IGP.
To spread the gospel of Police Assistance Committee in relation to community policing, we moved to Abuja and began to organise seminars and workshops to train members of the public and members of our council across Nigeria. In Abuja we did four workshops at Sheraton Hotel in partnership with the IGP, minister of FCT and other security agencies. We received letters of acknowledgement from commissioners of police from different states and the FCT appreciating our work in installing internet based computers for easy dissemination of information to the police.
I wish to state unequivocally that I and my sponsors that loan money for the project have been funding all the activities Police Assistance Committee (PAC) from the money I came with from United State America and the wealth I inherited from my late father, Chief T. A. Oni, the first indigenous chairman of contractors. Apart from very few people that sponsored some of the programmes, the bulk of the money we used in encouraging and compensating people that joined in fighting crimes through community policing came from me. I spent all the money I inherited from my late father to fund our programmes for the past twenty years to actualise the dreams of community policing in Nigeria when it started under IGP Aliyu Atta. I invested all these money with hope that one day I would be compensated for my efforts. Many retired senior officers and many still serving can attest to my claims. They, including all service chiefs, witnessed and attended all our seminars and workshops in all the 36 states and Abuja. Nobody has sponsored me or any exco members with money; or with the installation of Internet computers in states' police commands; or sponsor our training at all the workshops and seminars.
I can equally tell you that I paid all expense trips of some people and Exco members to America and Finland for training on spy mission and community policing. When all my money and wealth finished on this mission I sold my three houses and four trailers. I have trained people to continue training and organizing seminars and workshops across the nation; believing that one day government will compensate me and my Exco members because I am entitled to any fund that comes out for community policing.
You can then imagine the grief I encountered when my exco members started accusing me of receiving money from government without giving them anything, I developed BP.
As well known information/intelligence gathering agent to police and other security agencies, even with the new wave of insecurity everywhere, I don't need to state further other bad plans on us but God has been protecting and guarding us. However, it is now we needed police protection because of the increasing insecurity ravaging the country. This is necessary because we have been in media coverage for the past twenty years as spies and informants. I am still strong in training our loyal exco members who still believe in me and expect some goodies when money comes out.
I was the first state chairman of PCRC in 1992. My ID card number is 001. l establish PAC IN 2002. I cannot remember the number of Police Posts I built as chairman of PAC while maintaining the office of Area Commanders and DPOs. We donated many fans and public address systems in many Officers' Mess.
With the above enumerations of my journey in the cause of community policing, I hope I have convinced you on my activities in the past two decades.